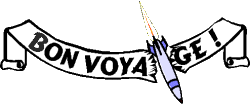 We're ba-ack! Yes, it's time for another fun and exciting SIL-West live roleplaying game. Throwing caution to the winds, we've decided to write a new game, so all of you old hands can finally get to play again. Even more incautiously, we've decided to run the game on our own, instead of partnering with a science fiction convention. It costs us more, but it will cost you less, and we're hoping for fewer last-minute crises.
Starfire is a return to the alien-filled galaxy of Stopover (only there will be far fewer bananas this time) for more mystery, sabotage, and intrigue. The Starfire is a luxury liner that has fallen into some, er, misfortune, dragging some very important people along with her, and discovered a whole new civilization living in a place no one thought possible.
Starfire will run 19-21 November 1999 at the Westin Hotel in Santa Clara (next to the convention center and Great America). The cost for the game is $65 ($75 after 1 November, $85 at the door), which is less than you would normally have paid for a game and the host convention -- such a deal! If you have a gift certificate for a free game, we will honor it as a $25 off coupon for Starfire .
Bring your friends: We're always looking for new players. For every new player (who hasn't played any SIL-West game before) you bring into Starfire (tell them to mention you on their signups), we'll give you a $5 refund from your game fee when you arrive.
We have also negotiated a very good hotel room rate with the Westin. Rooms are only $79/night if you reserve them before 5 November (another reason to sign up early for the game): call 888-627-8405 and tell them you're with SIL-West. You do not need to stay in the hotel to play (we have no room-night commitment). A big thank-you to Cynthia Barnes and her assistants for doing the site research and negotiation with the hotel!
Because we are running without a host convention, we cannot count on at-the-door registrations. Please reduce our ulcers (and ensure that the game is not cancelled!) by signing up early and often. All you have to do is send us your check to reserve your place in the game; you can always fill out the casting questionnaire separately. You will even be able to find it online soon at www.silwest.com -- many thanks to Kiera the Thief for setting up and maintaining the website!
Help attract new players: If you know of a way to publicize SIL-West online, email it to us at silwest@netcom.com. If you know of a game, comic, or book store, or a tabletop or live roleplaying or theatre group where our flyers might attract a good audience, let us know how many flyers you'd like. If you know of a specific person who should be added to our mailing list, send us the name and address. Many thanks to Barry Eynon and his helpers for maintaining our database and getting this mailing stuffed so we could focus on writing!
Other ways you can help: We're always looking for people who can help us out. For instance, Lisa McDonald has done a fabulous job making sure the GMs were supplied with plenty of yummy and nutritious food during games (thank you, thank you, thank you!). For this game, we'd love to find some artistic souls who can decorate our function space to look like a slightly battered luxury starliner. We have an introductory minigame, Long Ago and Far Away, which is looking for venues and experienced players to run it (and play in it!). It's always been our best form of advertising. And we always need plenty of strong bodies and weak minds to assist with the last-minute schlepping and setting up. Send us a note if there's something you'd like to help with. Thanks in advance!
Sign up now! Before you forget, before you put this on the pile of "things to do," fill out the simple registration coupon for Starfire . You can always fill out the casting questionnaire later. There's never going to be a better time to get in on the game! We look forward to hearing from you soon, and to having a great time with you in November!
Sincerely,
The Starfire GMs