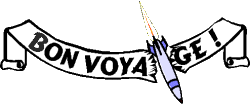 The Starfire is the epitome of the hedonistic vacation getaway: the finest luxury suites, gourmet food reflecting the cuisines of every known species, entertainment surpassing that of New Vegas and K!ok K!ak N%ut, fully-equipped business and diplomatic facilities, and a staff eager to provide for your every comfort and convenience. All seemed well when she left the Human Consortium on her standard three-week tour, but...
Something Strange Is Going On!
Was it really chocolate that triggered the Kikkita invasion of Human space? Or are they just trying to deal with possible rebellion and secession movements at home? Is it true that some of the rebels have taken hostages? Could they be connected with the Church of the Cosmic Flux? How can the Eorim be screaming for revenge -- weren't those natural disasters on their homeworld? Or could they be connected to the mysterious explosions that have rocked worlds throughout the known galaxy? Why would the Shi'at Nagra pirates attack a Kikkita archaeological expedition ship, and what can the Starfire do with the survivors? Has a Freitag Tunnel ever sucked a ship in before? And where has the starliner emerged? What's happened to all the stars? How old are those ruined ships? Is it true that the Sargassans even tax death? Will anyone escape, or will the galaxy be plunged into war as the Starfire plunges into the black hole?
For these and other questions, don't miss this chance to return with us to the universe first created in Stopover, where Humans are just the newest alien species on the block, wearing a red shirt isn't always fatal, and things aren't always what they seem.
No prior knowledge is necessary -- we provide everything you'll need. If you played in Stopover, be prepared for some new twists. If you didn't, get ready for some serious space-opera fun!
What is Live Role-playing?
Through the magic of imagination, you and 65 other players will be transformed into pirates, smugglers, corporate fat-cats, spies, scientists, government officials, diplomats, a veritable slew of aliens, and more things just too weird to mention, for a weekend of scheming, politics, and mayhem.
Your character is described in a short story about your background and goals, not as a set of statistics. Simple, safe, card-based rules let you back your clever speech up with a little muscle (even if you're a klutz in real life), but encourage creative role-playing and dramatic interaction between characters.
The only audience is you, and there's no script: your actions will shape the future.
Live role-playing is a great way to meet new friends, and solve mysteries and save the world (or take it over!) in the process.
When and Where?
Date: 19-21 November 1999
Place: The Westin, Santa Clara, CA. To get the special hotel rate ($79/night), call 888-627-8405 before 5 November, and tell them you are with SIL-West.
Cost: $65 before 1 November, $75 after, and $85 at the door. Bring a new player and get $5 off!
Gamesmasters: Steve Balzac, Aimee Yermish, George Cole, Tom Lehmann, John DeFranco